TRACHI – AUTONOMY
Howdy,
first things first:
1.2 post-release
Shortly after the release of 1.2, I received some immediate feedback.
Apparently, a few plugins were causing trouble.

Thankfully, I was able to fix the issue and push out a fixed version (1.2a), a few hours after that.

Since then, I've fixed a wider range of issues and also fine-tuned specific segments of the game.
The product of that is 1.2b, which I uploaded a few hours ago.
Included are a few QOL changes, as well as a bunch of cosmetic adjustments.

With that out of the way, I'll be on vacation starting tomorrow until Tuesday.
After working on TRACHI ten to sixteen hours every day for the last three months, I'm a bit anxious to let go of it for a couple days.
On the other hand, I'm also very excited to rest a bit and return refreshed and with a new perspective.


But before that, I want to give you a quick rundown on some of the features coming with TRACHI 1.3.
Right now, I've set my eyes to focus on three main areas:
Visuals, gameplay and narrative.

I'll cover each of these areas in separate devlogs over the coming weeks.
For now though, a few pointers to the big chances coming in 1.3:
Improved and expanded walking sprites

I've already tested a bunch of different scaling algorithms and am planning to update each sprite to look a lot more defined and less blurry.
In the comparison below, you can see that there's already a slight improvement between the new sprite (left), and the old one (right).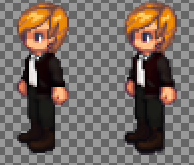 I'll keep playing with different methods, but I'm already very confident that the new look will improve the aesthetic of the game, a lot.

On that note, I'm also going to add more detail on them and add another batch of NPCs to place throughout the city.
The biggest change in the visual department will however come in the shape of special poses, such as sitting, kneeling, lying down and so on.
Dialogue
My primary goal in this area is for the player to have more control over the flow of the dialogue.
This includes advancing a conversation more quickly by getting "straight to the point" or going more in-depth by asking questions about certain topics, be it events, people, locations and so on.

So far, I've implemented a few prototypes and will look at a few dedicated cases to start implementing these systems from 1.3 onwards.
Act 2
I've structured the second Act from the start to around 4/5th of it.
Next up, I'll start working on the intro and hopefully have the first teaser out in around two weeks.
Around that time, I'll also release more details about the act itself.
There's a lot of big events happening, with massive consequences to everyone involved.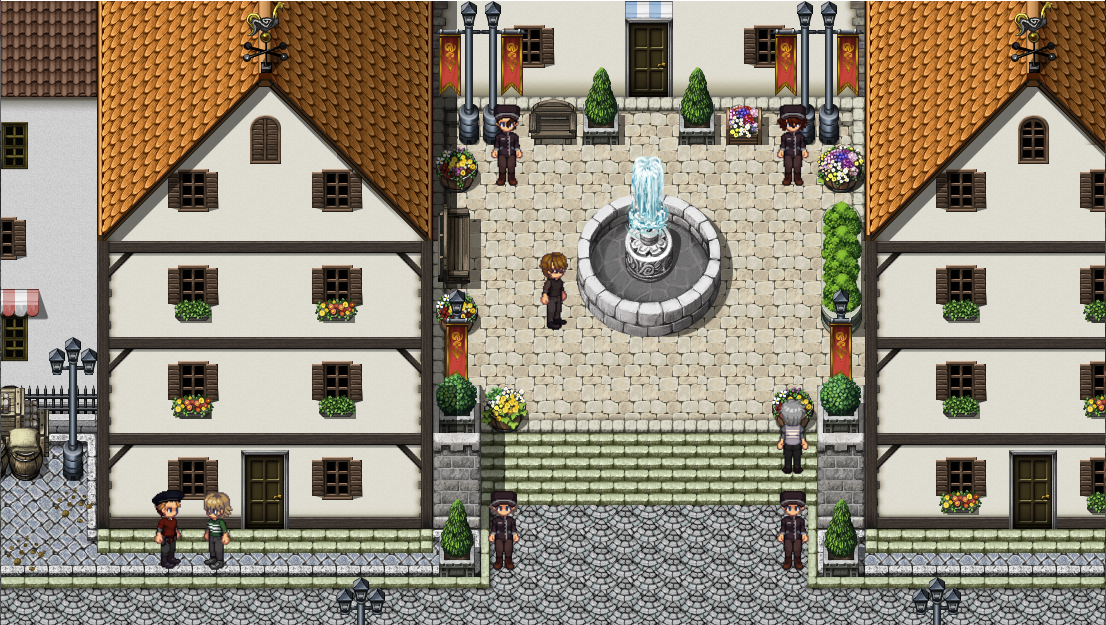 As for the general theme of the second day:
There will be a couple of new characters introduced and a much deeper look into the intricacies of Trachian politics will be given.
In the screenshot above, you can see the courtyard of the Trachian Parliament, the central legislative institution of the city.

But that's not all, of course.
A bunch of characters from the prologue, who have not made their appearance in Act 1, will re-enter the stage, as well.
And of course, for those of you who played Act 1:
The relationship between the three protagonists will also be explored more deeply. This includes additional background to the characters, as well as their role in the events of August 27th, 1923.

In any case, I'm off to pack my things, now.
As always, I want to thank each and everyone of you for your support.

It's incredible to see more and more people get invested into a world that I'm struggling to make more beautiful and terrifying, with each passing day.

And I am more than confident that the next chapter will live up to the expectations.
Have a nice weekend, all of you.
Much love,
Nory